Today, millions of women and girls around the world are stigmatised, excluded and discriminated against simply because they menstruate. It's hard to believe that in 2022, women and girls continue to miss out on education, aren't able to earn an income and are often unable to participate in everyday life, just because of their natural menstrual cycle.
Red Source, a leading supplier of relief, support, health and hygiene products to the humanitarian sector, passionately believes that this has to change and today announced that it is working on a groundbreaking project to create a range of sustainable, reusable female hygiene products.
"Our hope is that the products we are working on will help women and girls around the world in period poverty," said Jaime Ovington, Red Source's gender equality champion. "This is a subject of which I am incredibly passionate about. We are committed to raising awareness around the challenges regarding access to menstrual products and period-friendly sanitation facilities."
"Around the world, 800 million people are on their periods at any given moment and it's estimated that 500 million people live without access to adequate menstrual hygiene. Many of them end up resorting to unsafe materials to manage their periods because their schools or workplaces don't yet provide free menstrual products. Globally, 12.8% of women and girls live in poverty and struggle to access the resources to manage their periods. The tampon tax makes it even harder for people who can barely afford their basic needs," Jaime said.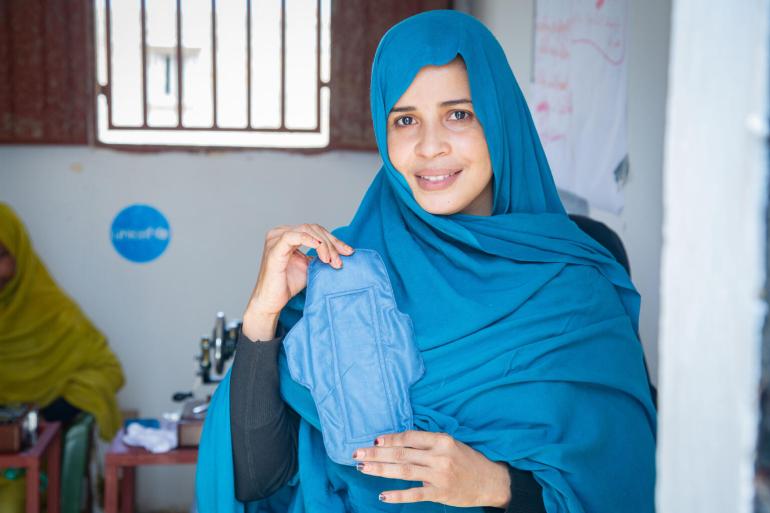 Red Source is working with manufacturers of sustainable female hygiene products to produce reusable menstrual items that will be distributed as a full kit. Aimed at women in developing countries, this will enable women and girls to continue their daily lives as normally as possible while menstruating. The kit will include washable and reusable sanitary napkins, underwear, soap, laundry detergent, an educational booklet and a storage pouch.
The cultural shame attached to menstruation and a shortage of resources stop women from going to school and working every day. 'Period poverty' is the lack of access to sanitary products, menstrual hygiene education, toilets, hand washing facilities, and, or, waste management. Menstrual health is not just a women's issue. Globally, 2.3 billion people live without basic sanitation services and in developing countries, only 27% of people have adequate hand washing facilities at home, according to UNICEF.
MH Day was initiated by the German non-profit WASH United in 2013. Their vision is that by 2030, it is possible to create a world where no woman or girl is held back because she menstruates. This means a world in which every woman and girl is empowered to manage her menstruation safely, hygienically, with confidence and without shame.
"It is fantastic to see initiatives such as Menstrual Hygiene Day give light to such an important topic. We are very proud to be leading this project and bringing together local companies to create what will be a groundbreaking initiative that we hope will change the lives of many women and girls. We are committed to finding solutions to this global problem in a sustainable and cost effective manner," Jamie added.
Resources:
https://menstrualhygieneday.org/
https://www.globalcitizen.org/en/content/period-poverty-everything-you-need-to-know/
https://www.unicef.org/wash/menstrual-hygiene
#WeAreCommitted
#mhday2022